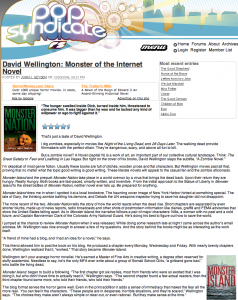 "The hunger swelled inside Dick, turned inside him, threatened to consume him. It was bigger than he was and he lacked any kind of willpower or ego to fight against it."
That's just a taste of David Wellington.
I dig zombies, especially in movies like Night of the Living Dead, and 28 Days Later.The walking dead provide filmmakers with the perfect villain. They're dangerous, scary, and above all fun to kill.
But a zombie novel? A Novel (capital N) is a work of art, an important part of our collective cultural landscape. Think: The Great Gatsby or Fear and Loathing in Las Vegas. But right on the cover of his books, David Wellington slaps the subtitle, "Zombie Novel."
I'm skeptical of most genre fiction. Usually these books are full of clichés, wooden prose and flat characters. But Wellington moves past all that, proving that no matter what the topic good writing is good writing. These literate novels will appeal to the casual fan and the zombie aficionado.
Monster Island and the prequel Monster Nation take place in a world overrun by a virus that brings the dead back. Upon their return they are hungry. Really Hungry. Both books are fast-paced, smartly written, and inventive. From the initial approach to the Statue of Liberty in Monster Island to the street battles of Monster Nation, neither novel ever lets up. Be prepared for anything.
Monster Island drew me in when I spotted it at a local bookstore. The haunting cover image of New York Harbor hinted at something special. The tale of Gary, the thinking zombie battling his demons, and Dekalb the UN weapons inspector trying to save his daughter did not disappoint.
The more recent of the two, Monster Nation tells the story of how the world reacts when the dead rise. Short chapters are separated by even shorter blurbs, made up of news reports, radio broadcasts and other shots of postmodern information like diaries, graffiti and FEMA advisories that show the United States falling apart. As in Monster Island, the narrative follows a pair of major characters: Nilla, a woman with no past and a cold future, and Captain Bannerman Clark of the Colorado Army National Guard. He's doing his best to figure out how to save the world.
I jumped at the chance to review Monster Nation when it was released. While doing some research late at night I came across the author's email address. Mr. Wellington was nice enough to answer a few of my questions. And the story behind the books might be as interesting as the work itself.
"A friend of mine had a blog, and I had an idea for a novel," he says.
This friend allowed him to post the book on his blog. He produced a chapter every Monday, Wednesday and Friday. With nearly twenty chapters done, Wellington realized that it, "worked." That story became Monster Island.
Wellington isn't your average horror novelist. He's earned a Master of Fine Arts in creative writing, a degree often reserved for stuffy academics. Needless to say, he's the only MFA ever write about a group of Somali School Girls, "a girlband gone bad," who battle the living dead.
Monster Island. began to build a following. "The first chapter got six replies, most from friends who were so excited that I was doing it, but who didn't have time to actually read it," Wellington says. "The second chapter found a few actual readers, then the third chapter found some more, who told their friends, who told their friends."
The blog format serves the horror genre well. Even in the print addition it adds a sense of immediacy that makes the fear all the more real. You can feel it the characters. "These people are in desperate, horrible situations, and they're scared," Wellington says. "The choices they make aren't always simple or clear-cut, or even rational. But they make sense at the time."
Bloggers and book lovers started linking the book to their own web sites. Soon Wellington was getting hundreds of hits a day. Eventually that buzz led to a book deal. "Monster Island was published in April, 2006, exactly two years after the first chapter was posted online," he says. "While it was in serialization it got picked up for review by BoingBoing.net. Mark Frauenfelder over there liked it so much he emailed John Oakes, one of his publishers, and told him all about it. John made an offer for all three books."
The web is a great way to promote novels but according to Wellington it still takes "legwork," a lot of it. "I emailed everyone I knew who had a web site and asked them to take a look. Then I emailed everybody who had a web site I liked, or anyone who reviewed books, or anyone who just liked zombies."
Of course he says, "It helped that I was giving it away for free, and I hope it also helped that I'd written a good book that people enjoyed. People on the internet are incredibly warm and supportive and they want to help people who entertain them."
The process of posting chapters for anyone to read and respond to became an online workshop with actual readers. "They (the readers) can comment on any given chapter and believe me, they do," he says. "I get a lot of constructive criticism out of the serial, which then goes toward the revision process before the book eventually sees print."
Remember these are cerebral zombie tales. The gore factor that so many zombie fans love doesn't always come easy to the author. "Honestly, I have to push myself to be more gory," he says. "I like to draw a distinction between unnerving and gruesome. Gruesome is when you describe the texture of somebody's entrails as they're pulled out of an abdominal cavity. Unnerving is when you tell somebody you already know what their guts feel like, and then you describe what their face looks like as they realize that you're not lying. I think it's much more effective to hint at things."
Wellington admits, "eventually you have to show the blood." Still, it's not something you can just throw at the reader. "You have to earn it." He has a saying: "blood is the punch line of a horror story."
In both books the reader sees the world through the eyes of the dead. Characters like Nilla (MN) and Gary (MI) possess a cool outsider quality. The paths they follow and how the living react to them might be the most unique part of their respective books. "Most zombie stories are about how the survivors react to the zombies," Wellington says. "I wanted to show what the post-apocalyptic world looked like with no living people in it."
Like most zombie/horror fans Wellington counts George Romero as one of his heroes. He says that "Night of the Living Dead is pretty much perfect" and provided him with a set of "rules." Tales of a zombie apocalypse never get old but the Monster books put a new spin on it. For instance, Wellington's zombies don't just eat people. They eat anything organic. "They'll eat the bark off of trees or pry gum off the sidewalk, they're so hungry," he says. "Whenever I start a story I want to come up with something new. It's too boring to just redo what has come before."
Fear not. Wellington is hard at work on more gore. His next published book will be Thirteen Bullets, a vampire story already serialized for anyone to read at davidwellington.net. Also, there's a new serial online right now called Frostbite, which is about werewolves. The genre suits him. "I'm sticking with horror, though there's a lot of wiggle room inside that term. As a genre, horror is very liberating. You can do pretty much anything you like, as long as it's scary."
Now that he's an internet success story, things keep rolling along. "The reaction to Monster Planet (the 3rd zombie novel) was great," he says. "It got twice as many comments as either Monster Island or Monster Nation and a lot of really positive fan mail, as well as many, many helpful critiques and suggestions. It ends the trilogy with a bang, a climactic battle between the living and the dead and the more-than-dead. All the characters of the first two books come back, twelve years later, to finish things once and for all."
Well, time to start stockpiling supplies and figuring out how to board up my house. Just in Case. Because in the end we are all zombies, mindlessly walking through our days, consuming. If it's not the human flesh that the reanimated corpses in Wellington's zombie novels crave then it's television, comic books, or web sites like Popsyndicate.com. Bon Appétit.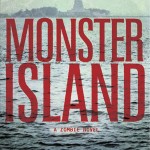 This feature originally appeared at Popsyndicate.com here: